West European energy subsidies approaching $1 trillion – think tank
The cost of protecting households and businesses from soaring prices keeps growing, analysts at Bruegel say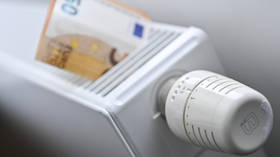 European nations have splashed out nearly €800 billion ($855 billion) on support measures as the region continues to reel from climbing energy costs, researchers at Brussels-based think tank Bruegel said on Monday.
The analysts have urged governments to be more targeted in their spending aimed at subsidizing bills for households and businesses, in the face of wild swings in prices for gas and electricity over the past year.
EU member states have so far allocated €681 billion to energy spending since September 2021, according to the researchers at Bruegel. Meanwhile, the UK and Norway have reportedly earmarked the equivalent of €103 billion and €8.1 billon, respectively.
The total of €792 billion marks a nearly €86 billion increase in spending since Bruegel's last assessment released in November. The think tank attributes the boost to the region's continued need to turn to more expensive supplies through winter after most EU states opted to stop importing gas from Russia.
Germany reportedly topped the spending chart, allocating some €270 billion, while the UK, Italy and France – the next highest – each spent almost €150 billion. Most EU states spent a fraction of that. Luxembourg, Denmark and Germany were the biggest spenders on a per capita basis.
The update on energy spending comes as EU member states are debating proposals to ease state aid rules further for green technology projects, as the region seeks to compete with subsidies in the US and China.
The think tank cautioned that most of the support so far had been non-targeted and urged governments to change their approach. Analysts said that dynamic needed to change, as countries are running out of fiscal space to maintain such broad funding.
"Instead of price-suppressing measures that are de facto fossil fuels subsidies, governments should now foster more income-support policies targeted towards the lowest two quintiles of the income distribution and towards strategic sectors of the economy," according to Bruegel analyst Giovanni Sgaravatti.
For more stories on economy & finance visit RT's business section
You can share this story on social media: