Saudi Arabia keen to join BRICS and SCO – envoy
Moscow's Ambassador to the kingdom says Riyadh is looking to diversify its foreign policy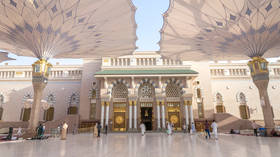 Saudi Arabia is interested in joining the BRICS group of the world's five major developing economies, as well the Shanghai Cooperation Organization, according to Russia's Ambassador to the kingdom, Sergey Kozlov.
The five BRICS nations – Brazil, Russia, India, China and South Africa – currently account for more than 40% of the world's population and nearly a quarter of global GDP. Meanwhile, the China and Russia-led Shanghai Cooperation Organization, a regional security bloc, includes major powers like India in its ranks.
"As part of the diversification of the kingdom's foreign policy, Saudi Arabia is keen to join such international associations as the SCO and BRICS," Kozlov said on Sunday in an interview with RIA Novosti.
According to the ambassador, the possibility of the Gulf nation's membership in the SCO is being actively discussed, while the idea of joining BRICS is under consideration.
"In general, the willingness of [our] Saudi partners to become an integrated part of these multilateral organizations, primarily the SCO, seems to have a good prospect," Kozlov said.
Earlier this year, Russian Foreign Minister Sergey Lavrov said that "more than a dozen" nations had expressed interest in entering the BRICS group.
Algeria, Argentina, and Iran have reportedly asked to join BRICS, while Bangladesh, Egypt, the United Arab Emirates and Uruguay are members of its New Development Bank. Argentina's potential accession is supported by China according to several sources.
Bahrain, Bangladesh, Indonesia, Egypt, Mexico, Nigeria, Pakistan, Sudan, Syria, Turkey, the UAE, Venezuela and Zimbabwe have also shown interest in becoming BRICS members.
For more stories on economy & finance visit RT's business section
You can share this story on social media: