Russian agricultural exports to Gulf state surge – envoy
Moscow's Ambassador to Riyadh Sergey Kozlov says last year exports neared $1 billion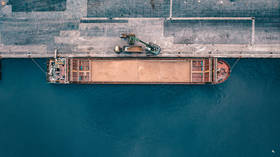 Russian agricultural exports to Saudi Arabia saw an unprecedented surge last year, Russia's Ambassador to Riyadh Sergey Kozlov said on Sunday in an interview with RIA Novosti.
The envoy noted that Moscow's cooperation with Riyadh in the agricultural sector is one of the major catalysts for the development of the entire range of Russian-Saudi trade and economic relations.
"In 2022, exports of Russian agro-industrial produce to Saudi Arabia saw an unprecedented increase by 49.9% and approached a significant milestone of $1 billion," Kozlov said.
The two nations are planning to boost mutual trade to $5 billion "in the foreseeable future," according to the ambassador, who highlighted that Saudi Arabia's importance to Russia as a promising trade and economic partner is steadily rising.
The diplomat recalled the most recent visit of Russian Minister of Agriculture Dmitry Patrushev to the Gulf nation made in October during the Saudi Agriculture Exhibition 2022, the Middle East's largest and most influential event focused on the agriculture sector.
"The minister's visit resulted in reaching vital agreements on the further promotion of Russian agricultural produce in the local market," he said.
The two sides signed a memorandum that provides for an increase in the supply of cereals, live animals, livestock products, food, fish products, shrimp, fruits and dates, niche crops, and forage grasses.
For more stories on economy & finance visit RT's business section
You can share this story on social media: