Russia to dump euro from rainy-day fund – Finance Ministry
The key national reserve will only hold gold, Chinese yuan and the ruble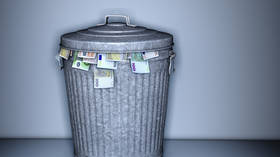 The share of the euro in Russia's National Wealth Fund (NWF) will be reduced to zero in 2023 as Moscow further reduces its exposure to the currencies of 'unfriendly' nations, Deputy Finance Minister Vladimir Kolychev has revealed.
"It [the euro] will definitely be reset to zero this year," Kolychev told reporters on Thursday while answering a question on what would happen to the funds in euros remaining in the NWF accounts.
The official also added that the ministry would gradually bring the structure of the NWF in accordance with the new standards in such a way that only rubles, Chinese yuan and gold would remain there.
The ministry earlier published a new regulatory structure for the assets of the NWF, which completely excludes the possibility of investing in US dollars and establishes flexible shares of other assets. Under the new terms, the maximum share of the yuan and gold in the NWF has been doubled, to 60% and 40%, respectively. Meanwhile, balances in the British pound and the Japanese yen have been reduced to zero.
The NWF, which accumulates revenue from oil exports, was created to support the national pension system and to help cover budget deficits when needed. The assets of the fund amounted to $155.3 billion as of February 1.
For more stories on economy & finance visit RT's business section
You can share this story on social media: