Euroclear starts converting ruble accounts into euros
The move will hamper non-sanctioned Russian investors from accessing their funds blocked in Western depositories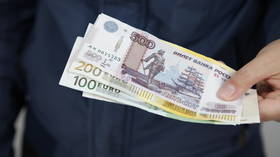 Euroclear, the EU's leading securities transactions company, began converting ruble balances into euros on Wednesday, without the consent of account holders. The Belgium-based clearing house has decided to completely remove the Russian ruble as a settlement currency due to sanctions, further limiting Russian investors' access to their frozen assets.
Euroclear settles securities trades on European exchanges, and serves as a central securities depository for financial institutions operating in Europe. The company ceased transactions with Russia's National Settlement Depository (NSD) and blocked NSD accounts within its system following sanctions against the Russian clearing house in mid-2022. The move effectively made Russians unable to access their assets held within Euroclear.
"Euroclear Bank is not accepting money transfer instructions in rubles (or) any incoming ruble payments, including income and redemption events, on our closed account with ING Bank, our cash correspondent in Moscow," Euroclear said last week.
On Monday, the clearing house added that it was "excluding all securities denominated in rubles from all Triparty transactions with immediate effect and until further notice."
Last month, investors from countries that Russia has classed as "unfriendly" sold billions of rubles' worth Federal Loan Obligations (OFZ), which are coupon-bearing loan bonds issued by the Russian government.
According to a financial market source quoted by Reuters, Euroclear's move to withdraw rubles could make it difficult to further "localize" OFZs.
Russia's NSD has been trying for months to obtain permits for the release of Russian funds from Western clearing systems. In December, regulators in Belgium and Luxembourg authorized the release of "certain frozen funds and economic resources" belonging to non-sanctioned Russian investors, by granting a general license to the NSD. After that, the NSD and a number of other Russian brokers applied for the release of funds.
However, experts say the permits do not guarantee Russian investors will see their money in the near future, as there is uncertainty around the procedure for their withdrawal.
For more stories on economy & finance visit RT's business section
You can share this story on social media: