Record investment helped Russia survive sanctions – Bloomberg
Domestic companies have been boosting capital spending to adjust to new economic realities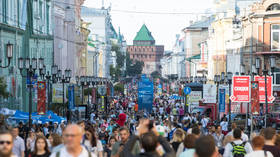 Russia has weathered Ukraine-related Western sanctions by boosting investment in domestic production and new supply routes, Bloomberg reported on Wednesday, citing statistics and analysts.
According to the report, capital expenditure rose 6% last year, while many economists expected it to drop by as much as 20% shortly after the Ukraine conflict broke out.
The Bank of Russia said in a recent report that most Russian businesses either increased investment in 2022 or kept it at the same level as in the previous year. As a result, output shrank by merely 2%, much lower than economists predicted when the latest sanctions were first introduced.
The restrictions have left Russia cut off from many imports, and Russian companies were forced to either boost spending to replace now unavailable foreign equipment and software, or invest into setting up new routes to secure supplies from alternative markets. Four out of five of the most capital-intensive sectors of the Russian economy increased investment spending, including transportation, mining, real estate, and science and technology, according to the Federal Statistics Service (Rosstat).
One of the country's biggest steelmakers, Severstal, shifted investment away from projects that were at risk of disruptions due to sanctions, and is currently investing in domestically produced information technology for the metals industry. Major banks, like Sber and VTB, are also investing to replace foreign software. Last month, reports emerged that the lenders plan to start issuing stickers containing NFC (Near-Field Communication) chips to replace foreign contactless payment services, like Apple Pay and Google Pay, which are no longer working in Russia.
The volume of investments in commercial real estate last year hit a historic high of 487.2 billion rubles ($6.8 billion), 21% higher than in 2021, according to a study by real-estate firm NF Group.
"The volume of investments was record-breaking with a minimal share of foreign capital. Russian investors are becoming owners of the vast majority of premium properties in various segments and this trend is likely to continue until the outgoing companies sell all their assets," the broker said.
Gas and oil producers, meanwhile, also boosted spending on either transport infrastructure or to fund a reorientation of exports from the West.
"This trend should support fixed investment in the years to come," Tatiana Orlova of Oxford Economics told Bloomberg.
Many businesses also profited from government grants and programs supporting import substitution. According to Rosstat, state financing was among the biggest sources of capital expenditure, amounting to some 17.8%.
"Difficult times will pass, while projects will remain – they are long-term, so we aren't stopping anything," Sergey Yanchukov, head of Mangazeya group, a diversified company whose main activities are gold mining, construction and development, told the news outlet. He noted that the company sees it "necessary to move forward" and invest for the future.
For more stories on economy & finance visit RT's business section
You can share this story on social media: