Iran's 'ghost fleet' shipping sanctioned Russian oil – FT
The number of vessels deployed for the imports has been growing, the outlet reports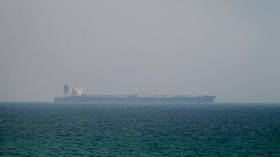 Iran has been deploying more ships as part of a "ghost fleet" carrying Russian oil amid Western sanctions on exports from the country, the Financial Times reported on Tuesday.
The term 'ghost fleet' refers to tankers used to circumvent sanctions to transport oil. Iran and Venezuela have perfected the practice in recent years to bypass US sanctions.
The report said that at least 16 vessels have started shipping Russian oil over the past two months. Earlier, just nine tankers had shifted to the Russian route since the start of the hostilities in Ukraine.
According to FT, the volume of Russian crude transported on vessels identified as part of the 'ghost' network jumped to more than 9 million barrels in January from less than 3 million barrels in November.
Many tanker operators have been willing to take part given the attractive rates offered, an unnamed shipbroker told the outlet.
"Everyone is a sinner now," the shipbroker said. "The line between the grey market and the conventional tanker market has definitely gotten blurrier in the past year."
Under the existing sanctions on Russian crude, the EU, G7 countries, and Australia have banned other nations from accessing insurance and shipping services unless they abide by a price cap on refined products.
Russian oil is still being shipped in tankers operating with Western insurance, according to FT. This insurance is only available on the condition that the oil was bought for less than the price cap, it explained, adding that the price for Russia's main export-grade Urals has fallen to a discount of $30-$40 a barrel below benchmark international crudes such as Brent.
The report pointed out that Moscow has already had to reroute much of its crude to Asia after a ban on its seaborne imports by the EU came into force on December 5. Statistics show that China and India have been boosting imports, buying record amounts of Russian fuel.
For more stories on economy & finance visit RT's business section
You can share this story on social media: