Russia-US trade continues to plummet
The overall turnover has more than halved since last year, statistics show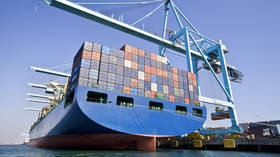 Trade turnover between Russia and the US saw growth in December but was down significantly for the year, amid Washington's increasing sanctions against Moscow over the conflict in Ukraine, according to the latest US statistics.
The US increased its exports to Russia from $62.6 million in November to $112.8 million in December 2022. Imports from the sanctions-hit country to the US also rose during the final month from $594.3 million to $638.4 million.
However, volumes of mutual trade were substantially lower than the figures recorded in December 2021, as Washington continues to ratchet up economic penalties on Moscow.
Exports of US goods to Russia amounted to $547.3 million in December 2021, while imports reached almost $1.9 billion, official figures showed.
Overall US exports last year stood at $1.7 billion, while imports from Russia amounted to $14.46 billion. In 2021, these figures were $6.4 billion and $29.6 billion, respectively.
For more stories on economy & finance visit RT's business section
You can share this story on social media: