China ramps up fuel oil imports blended from Russian crude – media
Sanctions on petroleum products are pushing supplies away from Europe and towards Asia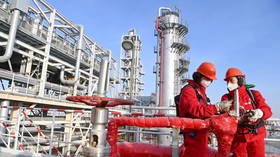 Independent Chinese refineries are boosting purchases of discounted fuel oil blended from Russian barrels, Reuters reported on Friday, citing latest data and trade sources.
Sanctions imposed by the EU and the Group of Seven on Russian crude, including the looming embargo and price cap on refined products that comes into force on February 5, have sent the barrels eastward and at deep discounts.
Meanwhile, a shortage of government crude oil import quotas are forcing China's independent refiners to use Russian discounted crude as low-cost feedstock.
Russian oil has been reportedly flooding ship-to-ship transport hubs in Malaysia and the UAE since the second quarter of 2022, traders told the agency. To clear the way for ship insurance and financing, traders blend barrels of Russian origin with other oils to rebrand the supplying country and avoid sanctions.
According to the Reuters sources, major discounts offered on the rebranded cargoes are helping Chinese independent refiners to improve margins, and replace crude that some companies are unable to import without quotas.
"We've been looking at Russian fuel oil since December. It is cheap and does not require (crude) import quotas," an executive with an independent refiner in eastern Shandong province told the agency, adding that the refiner didnt' receive any government crude quotas for the past year, and has to buy mostly straight-run fuel oil to produce diesel and gasoline.
According to official customs data, China's total fuel oil imports surged to about 1.76 million tons in December, the highest since September 2021. Meanwhile, direct imports of fuel oil from Russia slipped to 187,000 tons in December after peaking at 554,000 tons in October. Total imports from Russia more than doubled year-on-year to 3.1 million tonnes in 2022.
"The deep discounts offered are driving the trend as independent refiners are price sensitive. China is still recovering, with domestic demand for refined fuels uncertain," Emril Jamil, Refinitiv's senior analyst for crude and fuel oil told the agency.
"The trend will continue with the EU ban (on February 5), with all natural outlets in Europe closed. Asia will continue to soak up cheaper Russian (fuel oil) barrels on top of crude," he added.
For more stories on economy & finance visit RT's business section
You can share this story on social media: