EU nation swept by wave of bankruptcies – Bloomberg
The number of insolvent firms in Sweden increased sharply in January, the outlet reports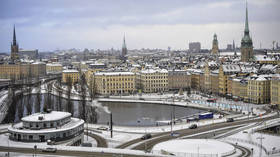 The number of bankruptcies in Sweden surged to the highest level in at least a decade in January amid growing pressure on construction companies from an ongoing housing-market crunch, Bloomberg reported on Wednesday.
According to the media outlet, citing credit reference agency UC, the number of bankruptcy filings rose to 622, marking a 47% increase from a year earlier.
Sweden has been struggling with its worst housing-price slump in three decades. The situation has contributed to a surge in defaults in the construction sector, with 130 builders filing for bankruptcy last month. Home prices have reportedly fallen by 16% from a peak in the first quarter of last year, with economists projecting the slide to continue.
"During fall, we saw bankruptcies in consumer-facing businesses such as retail, hotels and restaurants," UC economist Johanna Blome said. "Now we see that the largest increase is happening in sectors that are closely connected to industry and longer-term investments."
A severe slump in Sweden's real estate sector has damaged the Nordic region's largest economy. According to estimates from Sweden's National Board of Housing, new home construction will fall dramatically by 44% this year to 33,000. Meanwhile, a drop in construction could further weigh on economic activity, the report warned.
The Swedish government announced at the end of 2022 that the country was entering a recession that would last until 2025. The nation's GDP is expected to fall by 0.7%, while unemployment is forecast to rise to 7.8% in 2023 and 8.2% in 2024.
For more stories on economy & finance visit RT's business section
You can share this story on social media: