Russia sanctions may jeopardize US gasoline supply – Bloomberg
The looming EU ban on Russian petroleum products could lead to fuel shortages on the East Coast, the news outlet reports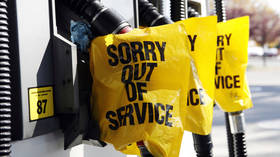 America's Eastern states may face gasoline shortages this summer due to the EU's ban on petroleum products from Russia, Bloomberg reported on Tuesday.
According to the report, US seasonal gasoline storages are currently at their lowest levels in a decade. At the same time, the need for more careful maintenance of oil refineries in winter months is likely to further deplete reserves.
Although the US is a net exporter of gasoline, most of the supply excess is on its Gulf Coast. Transporting the fuel to the East Coast is hard due to insufficient pipeline capacity and the high cost of shipping. The region, therefore, traditionally relies on deliveries from Europe, especially during the summer.
The EU ban on Russian oil products, which comes into force on February 5, may limit Europe's ability to provide itself with the fuel and send it on to the US, Bloomberg notes. This could lead to a fresh spike in gasoline prices, with consumers still reeling from last year's $5-a-gallon fuel costs at the pump.
According to the news outlet, US companies will inevitably have to look for new fuel sources to avoid shortages. One option would be to redirect fuel from the Gulf of Mexico to the Caribbean, and then to the US. Alternatively, the US could try to increase supplies from Asia and the Middle East, but the logistical difficulties associated with such a decision may be too great to make a significant change.
The US has been stepping up fuel purchases from India to replace the diminished shipments from Europe. According to data from Kpler analysts, about 89,000 barrels of Indian gasoline and diesel reached New York this month, which was the highest shipment volume from this particular destination in about four years.
Last year, India became one of the main buyers of Russian oil, banned by the US and EU, and plans to further increase import volumes. It will likely have enough fuel to step up exports to the US if the need arises.
However, according to Bloomberg, increased dependence on imports from distant India may still pose a risk of supply disruptions in the US as delivery times exceed one month, which is nearly three times longer than for imports from Europe. Also, the US may need to sidestep its own sanctions, purchasing fuel from a country that buys it from Russia.
For more stories on economy & finance visit RT's business section
You can share this story on social media: