Norway's wealth fund posts heavy losses
One of the world's largest investment funds lost over $160 billion in 2022 amid market volatility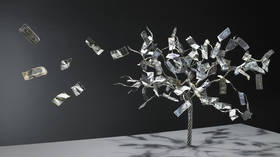 Norway's sovereign wealth fund, Government Pension Fund Global, posted a record loss of 1.64 trillion kroner ($164.4 billion) in 2022, according to data published on the fund's website on Tuesday.
The return on investment last year was negative 14.1%, according to the released figures. The fund's equities holdings posted a 15.3% loss, while its fixed-income portfolio was down 12.1%.
Nicolai Tangen, CEO of Norges Bank Investment Management, the entity that manages the fund, commented: "The market was impacted by war in Europe, high inflation, and rising interest rates. This negatively impacted both the equity market and bond market at the same time, which is very unusual. All the sectors in the equity market had negative returns, with the exception of energy."
Despite the record loss, the overall value of the fund increased by 89 billion kroner ($8.9 billion) year-on-year. This was largely due to a record 1.1 trillion kroner ($109 billion) inflow, a figure roughly three times larger than the previous high from 2008. Currency fluctuations also helped, adding some 642 billion kroner ($64 billion) to the fund's value.
The fund, which reportedly lost the status of the world's largest sovereign wealth fund to China Investment Corporation, had a value of 12.4 trillion kroner ($1.2 trillion) as of December 31, 2022.
The fund invests the revenue from Norway's oil and gas sales, which grew substantially last year after the country became Europe's largest gas supplier due to the drop in Russian flows. The fund holds stakes in some 9,300 companies globally and owns the equivalent of 1.3% of all listed stocks.
For more stories on economy & finance visit RT's business section
You can share this story on social media: