British oil giant predicts shift to clean energy
BP expects a sharp decline in the demand for fossil fuels after 2030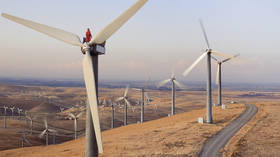 The conflict in Ukraine is expected to strongly affect the world's long-term energy demands, propelling a transition to renewables and low-carbon energy sources as countries seek to secure energy supplies, British oil major BP said in its 2023 Energy Outlook, published on Monday.
The report includes three potential scenarios, largely assuming that the mix of energy supplies will start to change from 2030, with both oil and gas demand dropping as countries turn to renewables and transport electrifies.
"The increased focus on energy security as a result of the Russia-Ukraine war has the potential to accelerate the energy transition as countries seek to increase access to domestically produced energy, much of which is likely to come from renewables and other non-fossil fuels," BP Chief Economist Spencer Dale stated in the report.
Two of the three scenarios assume that global oil demand will drop to 70-80 million barrels per day (bpd) by 2035, as compared to current consumption of around 100 million bpd, and further to 20-40 million bpd by 2050.
The situation with natural gas demand is less certain, according to the report, with two of the scenarios assuming that by 2050, it will be between 40%-55% lower than 2019 levels. The third scenario sees the use of natural gas growing, driven by demand in emerging Asia and Africa.
According to analysts, "the future of Russian energy supplies is uncertain," but they predict "a persistent reduction in Russian exports of hydrocarbons." They expect the country's oil production to drop from around 12 million bpd in 2019 to between 7 and 9 million bpd in 2035.
Western nations have imposed several rounds of sanctions against Russia since the start of its military operation in Ukraine, targeting the country's energy sector, among others. The EU, which previously relied on Russia as its largest gas supplier, saw flows dwindle due to sanctions and sabotage, which made one of Russia's major gas pipelines inoperable.
The US and its allies also placed embargos on Russian oil and introduced a price cap which bans Western companies from providing insurance and other services to ships transporting Russian oil, unless the cargo is purchased at or below the set price of $60 per barrel. Russia responded by banning oil sales to buyers who use the price cap in their supply contracts.
For more stories on economy & finance visit RT's business section
You can share this story on social media: