Amazon workers stage 'historic' strike
Some UK employees are demanding a pay rise and better conditions, claiming 'robots are treated better'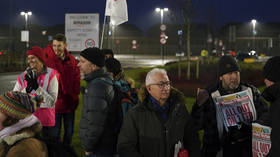 Amazon union workers in the UK are striking for the first time ever. They are complaining that their wages are below inflation-linked rates and are describing working conditions as "severe."
Members of the GMB Union working at the retailer's warehouse in Coventry voted to hold a "historic" industrial action after Amazon offered a 50-pence-per-hour (62 cents) increase in pay last month. The workers have rejected what they called a "derisory" pay rise, demanding instead an increase to £15 ($18.48) per hour.
The 24-hour strike began on Wednesday after midnight, with GMB saying it expects 300 employees out of a total of 1,000 at the plant to join the walkout.
"After six months of ignoring all requests to listen to workers' concerns, GMB urges Amazon UK bosses to do the right thing and give workers a proper pay rise," GMB senior organizer Stuart Richards said in a statement.
Last August, Amazon offered to increase pay to between £10.50 and £11.45 per hour which employees interviewed by the BBC said was a "smack in the mouth" given the company's profits and spiraling inflation.
"These people had worked two years through the pandemic, that had seen Amazon's shares go through the roof, they had seen the profits just become unimaginable," a company warehouse worker, Darren Westwood, told the media outlet.
The strikers are also demanding better working conditions, complaining about long working hours, frequent injuries, and the unrelenting pace of work, as well as an aggressive, tech-enhanced monitoring of employees.
"Someone the other day said we're treated like robots – no, robots are treated better," Westwood told CNBC.
In response, Amazon said in a statement that the size of the strike is "only a fraction of 1 percent of our UK employees." The action comes as the US tech giant is laying off 18,000 workers worldwide in a bid to adjust to a dramatic slowdown in online sales, after consumers resumed pre-pandemic offline shopping.
The company has postponed the opening of new warehouses and halted hiring in its retail group. Earlier, Amazon said that it planned to close three of its depots in the UK, which will impact about 1,200 employees.
For more stories on economy & finance visit RT's business section
You can share this story on social media: