Energy subsidies come at huge cost for German economy – Reuters
Berlin is expected to spend $18 billion on the scheme through May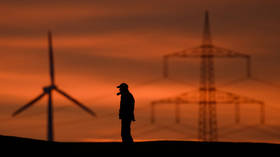 A financial aid package aimed at helping German businesses and households deal with the energy crisis will cost the federal government more than €16.6 billion ($18 billion) by the end of May, a document seen by Reuters shows.
Berlin is expected to spend some €14.5 billion ($15.75 billion) to set an electricity price cap, and an additional €2.14 billion ($2.33 billion) on subsidizing transmission network costs over the next two months, according to a document signed by Finance State Secretary Florian Toncar, addressed to parliament's budget committee.
The electricity price cap, which is projected to relieve the pressure of skyrocketing prices on consumers, will be entirely funded by the federal government. The cost of the measure, which is set to expire in April 2024, is expected to considerably top the €16.6 billion ($18 billion) Berlin will spend through May.
The German parliament's budget committee is expected to approve the spending plan on Wednesday.
Last year, Berlin announced plans to spend some €83.3 billion ($82.8 billion) on funding the electricity price cap for 2023. It is part of the €200 billion ($199 billion) "defensive shield" which the government said it would allocate to help the country's business and households cope with soaring energy prices.
Over the past several months, European benchmark gas prices have been lower than anticipated thanks to mild weather that helped to keep gas inventories at higher-than-usual levels. Moreover, weak demand for the fuel from Asian consumers helped European buyers acquire the redirected cargoes that were initially destined for Asia.
For more stories on economy & finance visit RT's business section
You can share this story on social media: