Western states agree to two price caps on Russian oil products – US
Refined products trading at a premium or sold at a discount to crude, will be capped differently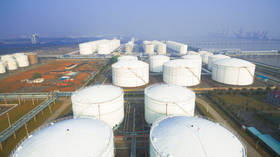 The US-led price cap coalition will place two separate price limits on Russian oil products depending on their category, the US Treasury Department said in a statement on Friday.
According to the statement, following a meeting between Deputy Treasury Secretary Wally Adeyemo and deputy ministers representing other G7 countries, EU states, and Australia, the sides also decided to review the price ceiling for Russian crude oil, which came into force last month, in March.
"The Deputies agreed to an approach for refined products that will institute two distinct caps, in addition to the crude cap: one cap for products that generally trade at a premium to crude, such as diesel or gasoil, and one for products that trade at a discount to crude, such as fuel oil. The Deputies agreed that this approach will better calibrate the price cap policy for refined products, given the wide range of market prices at which these products trade," the statement read.
In December, the coalition introduced a price cap on Russian seaborne oil exports which bans Western companies from providing insurance and other services to ships transporting Russian oil unless the cargo is purchased at or below the set price of $60 per barrel. The price cap on Russian oil products is now due to come into force on February 5.
Moscow has been firmly opposed to all initiatives to cap prices on its exports. Last month, Russian President Vladimir Putin issued a decree prohibiting deliveries of Russian oil and petroleum products to countries that directly or indirectly mention the price cap in their contracts.
For more stories on economy & finance visit RT's business section
You can share this story on social media: