Russia and Pakistan agree major energy deal
Oil and gas exports from the sanctions-hit country will help the world's fifth-most populous nation meet its demands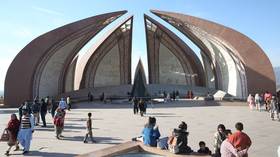 Moscow and Islamabad have reached "conceptual" agreements on supplies of Russian oil and petroleum products to Pakistan, Russian Deputy Energy Minister Sergey Mochalnikov said at an intergovernmental commission meeting in the Pakistani capital on Friday.
Earlier in December, the minister of petroleum, Musaddiq Malik, visited Moscow to negotiate energy supplies to Islamabad and announced that Russia would provide oil, gasoline, and diesel to the country at discounts. He did not specify the price but noted that the talks were "more productive than expected."
During the meeting in Islamabad, the sides also discussed "remaining questions" on the construction of the Pakistan Stream gas pipeline and the prospects for wider cooperation in energy and power engineering.
Mochalnikov said Russia presented a concept of future gas supplies to Pakistan, adding that "we must evaluate the position of the Pakistan Stream in this concept as soon as possible."
The day before, Russian Energy Minister Nikolay Shulginov stated that Moscow is "ready to sign required corporate documents" to kickstart the construction of the pipeline.
Russia and Pakistan signed an intergovernmental agreement on the construction of the North-South gas pipeline (Pakistan Stream) from Karachi to Lahore in 2015. The launch of the project was postponed several times. The 1,100km pipeline with a capacity of 12.3 billion cubic meters of gas per year will link liquefied natural gas (LNG) terminals in the ports of Karachi and Gwadar in southern Pakistan with power plants and industrial gas consumers in Lahore in the north of the country.
The pipeline will transport both regasified gas and pipeline gas from various sources, including Iran and Turkmenistan, according to Shulginov.
"The approach to the implementation of such projects has to be comprehensive. It means not only a pipeline but also a source of gas for it. And we are currently discussing the project both from the point of view of transporting regasified gas and pipeline gas," the minister said.
Islamabad is also seeking to negotiate long-term deals with Russia on imports of LNG, as there is currently no stable supplier for the country. Pakistan has been struggling with an acute energy shortage, and the surge in global oil and gas prices has worsened the situation. Imports of the fuel have become five to ten times more expensive due to increased demand in the EU.
For more stories on economy & finance visit RT's business section
You can share this story on social media: