Sanctions not stopping Pakistan from buying Russian oil – minister to RT
The EU and other countries continue importing large volumes of energy from Russia, according to Musadik Malik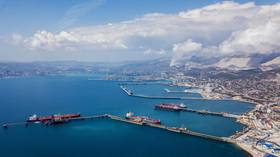 With Russia and Pakistan holding talks this week on strengthening bilateral trade and energy cooperation, RT talked to the Pakistani minister of petroleum, Musadik Malik, about Russian oil supply in the face of Western sanctions.
Pakistan currently imports about 70 million barrels of crude oil and its demand will be rising as the country's population grows, according to the minister. "So, if we can have Russian crude flowing through our system, it would be very helpful," he said.
While discussing Islamabad's intention to import crude oil, gasoline, and diesel from Moscow at discounted rates amid Western sanctions on Russia, Malik said there were no concerns about possible repercussions.
He explained that many countries have come up with a mechanism for importing Russian oil and this has been working.
"Europe is taking energy from Russia, and if you look at the quantum of energy that Europe is taking right now from Russia and compare it with even what Pakistan in times to come may take, it's not even going to be a small fraction," the energy minister stressed.
He added: "We haven't seen any sanctions, anything happening to those transactions. So, we would try to follow suit. I don't see any problems, we're not violating anything, we're not doing anything completely new, which the world hasn't done."
Last month after an official visit to Russia, Malik revealed that Moscow had agreed to provide oil to Pakistan at discounted rates to meet the country's rising domestic and industrial energy demands.
The world's fifth most populous country, Pakistan has been struggling with an acute energy shortage, a situation exacerbated by the surge in global oil and gas prices. Energy imports have become five to ten times more expensive for Pakistan due to increased demand in the EU.
For more stories on economy & finance visit RT's business section
You can share this story on social media: