US 'poised' to transfer seized Russian assets to Kiev – DOJ
The head of the forfeiture task force says he hopes the precedent will be used by others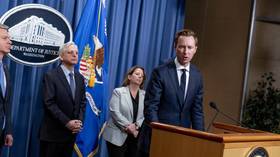 The US will soon send the first batch of funds from confiscated Russian property to Ukraine, the head of the Department of Justice (DOJ) special sanctions task force, Andrew Adams, revealed on Thursday. Adams said the move should inspire US allies to do the same, and insisted the unprecedented practice is not just possible and permissible under international law, but "imperative" given the current conflict.
"We're also poised to begin the transfer of forfeited assets for the benefit of Ukraine," Adams said at an event hosted by the Hudson Institute, a DC think tank.
"It's not a silver bullet, but it's something that nevertheless makes me hopeful," Adams said, adding that the relatively minor sums are important as "a model to our foreign partners" and to establish a legal precedent going forward.
US President Joe Biden proposed the scheme last April, and Adams hinted it was in the works in September, but said Congress needed to amend several laws to make it work. On Thursday, he confirmed those changes were indeed inserted in the $1.7 trillion omnibus spending bill, passed by Congress in the final days of 2022.
The new laws give the DOJ power to "direct forfeited funds to the State Department for the purpose of providing aid to Ukraine," said Adams.
Previously a federal prosecutor in the Southern District of New York (SDNY), Adams was appointed head of Task Force KleptoCapture, an interagency sanctions enforcement outfit created in March. KleptoCapture is part of the US-led Russian Elites, Proxies, and Oligarchs (REPO) Task Force, which has frozen "hundreds of billions of dollars in Russian state assets and tens of billions of dollars belonging to Kremlin-linked elites," according to the Hudson Institute.
Asset forfeiture is a controversial practice in US law. Proponents have defended it as a "key tool" for weakening organized crime and funding law enforcement, while critics accused it of being "policing for profit" and "egregiously at odds with our due process rights."
Adams insisted that taking the assets of Russian officials, businessmen and entities seized without trial "possible and permissible under fundamental norms of due process" and international law. The US has to date sanctioned 1,097 Russian entities and 1,331 individuals, according to data from the Atlantic Council, a think tank funded by NATO and Western arms manufacturers. The total value of the US-held assets belonging to these targets is unclear.
Washington and its allies have also frozen assets belonging to the Russian central bank, totaling around $300 billion, but have thus far found no legal loophole to seize these assets.
The freezing of Russian assets and finances by the US and its allies is "a completely illegitimate measure, violating commonly acceptable standards of commercial and international law," and proof to the rest of the world "that they are thieves," Russian Foreign Ministry spokesperson Maria Zakharova said last week. She warned that any attempt to confiscate those funds and redirect them to Ukraine would be a violation of property rights and met with an "appropriate" countermove from Moscow.
You can share this story on social media: