German economy to avoid recession – Scholz
New energy sources and lower demand due to unusually warm weather are expected save the EU's biggest economy from contraction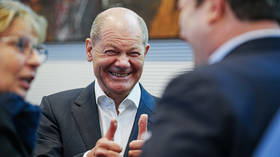 Accelerated efforts towards diversifying energy sources away from Russia, along with an unusually mild winter, will help the EU's largest economy to avoid recession this year, according to German Chancellor Olaf Scholz.
Germany is weathering the winter energy crunch better than was feared a few weeks ago, the country's leader said on Tuesday in an interview with Bloomberg, adding that a swift pivot to new non-Russian energy sources had become a decisive factor in bolstering the nation's economy.
"I'm absolutely convinced that this will not happen – Germany going into a recession," Scholz said, expressing his conviction that the dispute with the US over climate subsidies would be solved and China's emergence as a political and economic power would be managed.
Sanctions against Russia have exposed the vulnerability of German energy supplies, raising deep concerns over the country's energy security. Berlin had to act quickly to avoid shortages in the coldest months of winter as Germany rejected purchases of natural gas from Russia that covered 55% of the country's consumption prior to Moscow's military operation in Ukraine.
"We have to learn our lesson… and a lot of other big problems we are facing," Scholz told the agency before heading to the World Economic Forum, where he is expected to deliver a special address on Wednesday. "We should differentiate our supply chains, we shouldn't go for one country alone."
According to the chancellor, new liquefied natural gas terminals that have been sprouting up on the Baltic and North Sea coasts are giving Germany the flexibility to keep its economy going.
"We are constantly increasing our capacities for importing gas," he noted "I'm sure that we will be able to go through the situation again."
For more stories on economy & finance visit RT's business section
You can share this story on social media: