EU country doubles trade with Russia
Greece has defied the bloc's efforts to cut economic ties with Moscow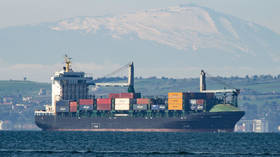 Imports of Russian goods by Greece more than doubled in the first 11 months of last year compared to the same period in 2021, according to the national statistical service Elstat.
It reported on Tuesday that during that period the value of imports amounted to €8.465 billion ($9 billion), recording an increase of 125.3% in annual terms. The value of Greek exports to Russia during the same period was €148.1 million (over $161 million), down by 18.8%.
Data showed that, in November alone, the value of Greek imports from Russia jumped almost 30% year-on-year to €715.7 million ($779 million). The report highlighted that the main imported products by the EU nation from Russia in November 2022 included petroleum oils and gas, unwrought aluminum, herbicides, jams, as well as refractory cement, mortar, concrete and so on.
However, the trade balance between the two countries in November was negative, with the deficit amounting to €704.8 million ($766 million).
Elstat data comes as the European Union has adopted nine rounds of sweeping sanctions that have affected various sectors of the Russian economy, including energy, high-tech, aviation, banking, mining, automotive and other industries, and targeted many businessmen, politicians, and journalists.
Brussels is now working on the next batch of penalties, which will reportedly target Russia's nuclear industry and diamond trade. Other penalties which the EU is rushing to symbolically implement by February 24 include cutting more Russian banks off from the SWIFT global messaging system and banning more of the country's media outlets.
Experts, however, believe that the energy embargo was the main punitive option that Brussels had, adding that the EU's economic restrictions against Russia have exhausted themselves and there's nothing new the bloc can come up with.
Meanwhile, Russian President Vladimir Putin said on Tuesday that the country's economy is performing "much better than what not only our opponents but even we ourselves predicted" and is on course for further stabilization.
For more stories on economy & finance visit RT's business section
You can share this story on social media: