Russia's biggest bank to open in Crimea
Sber had previously avoided working on the peninsula due to the threat of Western sanctions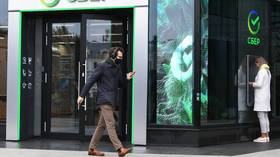 Russia's largest bank, Sber – formerly known as Sberbank – is beginning operations in Crimea, nine years after the peninsula joined Russia following a referendum, the lender announced on Wednesday.
The banking major couldn't operate on the territory of Crimea due to US and EU sanctions imposed on the region after its reunification with Russia in March 2014. Sberbank's Ukrainian subsidiary had operated on the peninsula before the referendum.
After Sber became a target of sanctions imposed by the EU, the US and their allies over Moscow's military operation in Ukraine, Crimea Deputy Prime Minister Georgy Muradov called on the bank to launch operations in the region as soon as possible.
"Gradually, during 2023, the bank's offices will be opened, the first of them in the largest cities will start operating in the first half of the year," Sber's press office said in a statement. "All the necessary services will be deployed throughout the year."
According to the head of the Republic of Crimea, Sergey Aksenov, a lot has been done in the region over recent years to develop the banking sector in the face of sanctions.
"The entry of such a major player as Sberbank into the market will further improve the availability, speed and quality of banking services for the population, and will positively affect the financial and investment climate, the development of the economy and the social sphere," Aksenov wrote on his Telegram channel.
Governor of Sevastopol Mikhail Razvozhayev expressed hope that Sber would open its doors in the Crimean port city in the first half of the year. He added that the lender is currently looking for a suitable location for its main office.
"It is no secret that Crimeans had to previously go to the nearest office, which is located in Taman, the closest settlement that is linked to Crimea by bridge, to just issue the banking card," the governor said in his Telegram post.
"I know that Sevastopol residents have been longing for Sberbank's entry. This will allow them to fully use all services the bank is providing," he added.
Last March, Russian President Vladimir Putin called on big businesses and banks to start working in Crimea despite the imposition of sanctions. In April, Promsvyazbank started operations on the peninsula, becoming the first Russian lender to enter the region. Prior to this, RNKB, a subsidiary of the country's second-biggest lender, VTB Group, had been Crimea's main financial institution.
For more stories on economy & finance visit RT's business section
You can share this story on social media: