UK house prices forecast to slump
Average home prices could fall by up to 10% this year, Lloyds Bank predicts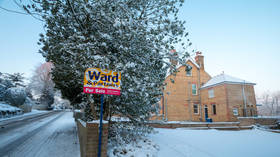 British house prices, which have been on a downward trend recently, will fall by up to 10% this year, according to Lloyds Bank CEO Charlie Nunn, citing higher mortgage rates and the impact of the cost-of-living crisis.

He told CNBC on the sidelines of the World Economic Forum in Davos, Switzerland, that the UK is facing a mild recession this year, with a GDP fall of about 0.1%. According to Nunn, unemployment will stay strong and "that's more because of the constraints on the supply side, interest rates about 4% and a recovery coming into 2023."
"The other challenge a lot of our customers are focused on is house prices and we do see house prices softening about 8-10% this year," he said.
The British housing market has been under pressure following former prime minister Liz Truss' disastrous economic plan. Known as the mini-budget, the plan, which was revealed in September, sent British financial markets into freefall and pushed up borrowing costs. The economic plan eventually resulted in the replacement of Truss with Rishi Sunak.
Meanwhile, the Bank of England (BoE) continued to hike interest rates aggressively in order to rein in double-digit inflation. The regulator said that the country was entering its longest recession on record.
Inflation hit 10.7% in November, and the BoE has hiked rates at nine consecutive policy meetings, to lift its main rate from 0.1% to 3.5%. Economists say that further increases will follow in the coming months.
The Office for Budget Responsibility (OBR) had warned earlier that British households face their sharpest fall in living standards on record. Nunn said that Lloyds was seeing a "tale of two stories."
"First of all, there is a relatively small but really important group of customers with mortgages and also without who are going to struggle to make ends meet in the cost of living. That's about 1% of customers we can see in the UK and we really need to focus on supporting them," he said.
"We're seeing a much larger set of customers having to adapt their spending and adapt to both higher costs of living and higher mortgage spend, but there still is real resilience in businesses, in households and in individuals at the higher income levels in the UK and strong spending we're seeing going through," Nunn added.
For more stories on economy & finance visit RT's business section
You can share this story on social media: