Russian monopoly watchdog slaps Apple with massive fine
The company has been ordered to pay more than $17 million for muscling developers into using the AppStore payment system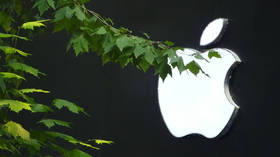 A major 1.17 billion ruble (more than $17 million) fine has been imposed on US tech giant Apple for violating Russia's anti-monopoly legislation, the country's Federal Antimonopoly Service (FAS) announced on Tuesday.
The fine stems from a ruling made last July, when the watchdog found the company in breach of local laws with its AppStore rules, which have been forcing developers to use only the payment system provided by the company itself.
"App Store rules prohibited iOS app developers from informing in-app customers about the possibility to pay for purchases outside of the App Store, as well as from using alternative payment methods. The company demanded that developers remove links to their own Internet sites and change the functionality of the application to prevent registration forms from leading to external sites," the FAS explained in a statement.
The unusually massive size of the imposed fine stems from the fact that it has been calculated based on the company's annual revenue in the country. Previously, FAS threatened to fine foreign tech giants between 0.01 and 0.15% of their revenue over breaches of anti-monopoly rules.
A similar ruling was made by the FAS last July against another US tech giant, Google. Unlike Apple, however, the company adhered to the warning from the watchdog, tweaking its Google Play payment rules to be in line with Russia's legislation last September.
It was not immediately clear how exactly the fine will be enforced, given that Apple announced its withdrawal from Russia early in the ongoing conflict between Moscow and Kiev, which broke out last September. Despite widely circulated rumors about Apple closing its Moscow office and relocating its employees to other countries, the company's Russian subsidiary appears to be active, with no reports of its potential liquidation or bankruptcy readily available.
You can share this story on social media: