Russia's seaborne oil shipments rise to 10-month high – media
Almost none of the exports are headed to Europe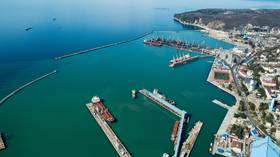 Exports of Russia's seaborne crude oil soared to 3.8 million barrels last week, hitting their highest level since April, Bloomberg reported on Monday. In the week to January 13, aggregate volumes of Russian seaborne crude reportedly surged 30%.
In physical terms, the growth amounted to 876,000 barrels per day. Baltic shipments expanded by 626,000 barrels per day compared to the previous week, while cargoes shipped from the Black Sea and the country's Pacific ports were up as well. At the same time, growth of daily volume through ports on the Black Sea amounted to 47%.
Overall seaborne exports grew by 550,000 barrels per day and totaled 3.06 million barrels per day, the highest since November. Shipments to Asia reportedly soared, while those to Europe have nearly stopped.
The surge in seaborne exports is partially attributed to a drop in pipeline flows to traditional buyers across the EU. However, the slump related to mild weather, which saw a drop in weekly flows by more than half, reportedly fell out of the calculation.
Russian profits from crude export duties, however, rose much less sharply. All cargoes shipped last week attracted duty at the low January rate, while several shipments that were carried out the previous week were taxed at the December rate, which was more than two-and-a-half times higher.
The European Union, G7 nations and Australia introduced a $60-per-barrel price cap on Russian oil on December 5. The measure came on top of the EU's embargo on imports of Russian crude by sea and similar pledges made by the US, Canada, Japan and Britain.
Sanctions have put more pressure on the shrinking fleet of vessels whose owners are still transporting Russian crude as the ban caused much longer voyages for the shipments. Journeys are reportedly taking some 31 days from Baltic ports to India, compared to just a week from the same terminals to Rotterdam and about half that to Poland.
In response to the oil-related sanctions, Russian President Vladimir Putin banned sales of Russian crude and petroleum products to nations supporting the price ceiling. The Russian Finance Ministry expects the country's budget to be deprived of some 54.5 billion rubles ($782 million) in energy revenues in January.
For more stories on economy & finance visit RT's business section
You can share this story on social media: