Food prices in Austria skyrocket – data
Consumer prices saw their highest annual increase last year since 1975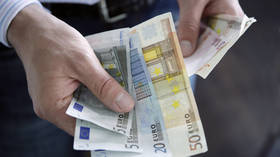 Food prices in Austria have continued to soar, rising on average by 15.7% last month, the national statistics office reported on Monday.
According to the agency, food and non-alcoholic beverages jumped in December by 16.1% compared to the same month a year ago. Price pressure increased particularly for milk, cheese and eggs, up by 24% in annual terms. Meat was also significantly more expensive in December, with its price growing 18.1% year-on-year. Bread and cereals increased by 16.1% and vegetables by 14.9%. Consumers had to pay 28.6% more for oils and fats (including for butter, up 33.2%). Fruit prices also rose, by 4.4%, data showed.
The consumption index in Austria in December amounted to 116.1 percentage points (the count is being compared with the base data from 2020).
In general, consumer prices in Austria rose by an average of 8.6% last year, more than three times the inflation rate in 2021 and the highest annual increase since 1975, Statistics Austria said.
"In December 2022, inflation continued to slow down at a high level of 10.2%, after 10.6% in November. Both the electricity price brake and the sharp drop in fuel price pressure contributed to the decline. In the case of food and gastronomy, however, the upward trend in prices was still unbroken at the end of the year," said Statistics Austria Director-General Tobias Thomas.
According to Statistics Austria, gas prices in the country surged by 80.8% year-on-year in 2022.
For more stories on economy & finance visit RT's business section
You can share this story on social media: