IMF warns of rising risks to global economy
Mounting trade restrictions will hit open-market economies most of all, according to the report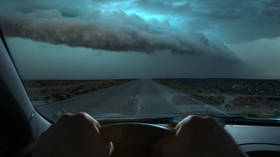 The deepening cost-of-living crisis, high levels of debt, and geopolitical tensions across the world could cost the global economy up to 7% of GDP, the International Monetary Fund (IMF) has warned.
According to its report issued on Sunday, the rising trade restrictions could result in what it calls "geoeconomic fragmentation."
The longer-term cost of trade fragmentation varies from 0.2% of global output to almost 7%, which is roughly the combined annual output of Germany and Japan, the IMF said. "If technological decoupling is added to the mix, some countries could see losses of up to 12% of GDP," it noted.
Yet, according to the analysis, the full impact would likely be even bigger. The report highlighted that, in addition to trade restrictions and barriers to the spread of technology, fragmentation could be felt through restrictions on cross-border migration, reduced capital flows, and a sharp decline in international cooperation "that would leave us unable to address the challenges of a more shock-prone world."
The impacts of fragmentation will differ, according to the IMF, explaining that lower-income consumers in advanced economies would lose access to cheaper imported goods. "Small, open-market economies would be hard-hit. Most of Asia would suffer due to its heavy reliance on open trade," the report warned.
It further indicated that emerging and developing economies would no longer benefit from "technology spillovers" that have boosted productivity growth and living standards. Instead of catching up to advanced economy income levels, the developing world would fall further behind, it concluded.
For more stories on economy & finance visit RT's business section
You can share this story on social media: