Former Twitter workers denied group lawsuit over layoffs
The fired employees will have to pursue their claims separately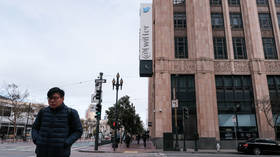 Twitter won a ruling on Friday that forces a group of laid-off workers to pursue their cases against the company through individual arbitration instead of a class-action lawsuit.
San Francisco federal judge James Donato ruled that the five former workers suing over their severance packages had agreements with the company that effectively waived their ability to take Twitter to court, and therefore will be unable to sue the platform as a group.
Donato postponed the decision on whether the entire class-action lawsuit should be dropped and divided into individual arbitration cases, as three laid-off employees who joined the class-action suit after it was first filed claimed they had not signed the arbitration agreement.
According to lawyer Shannon Liss-Riordan, who represents the former workers, a total of over 300 demands for arbitration have already been filed on behalf of laid-off Twitter staff, and hundreds more are likely to be submitted in the coming months. Workers claim they either did not receive adequate notices of layoffs or the full severance package promised by the company, while several also complained of sex or disability discrimination.
Twitter has not yet commented on the development, but apparently expects it would be easier to deal with separate cases than a class-action lawsuit. However, Liss-Riordan recently said that her firm is ready to represent each individual case against Twitter because the company's actions against its former staff are unlawful.
"If former Twitter employees need to bring individual arbitrations in order to enforce their rights, we are ready to represent them – and will bring hundreds or thousands of arbitrations if necessary to ensure that Elon Musk, the richest man in the world, is held accountable under the law," she stated.
Twitter laid off some 3,700 employees, roughly half of its workforce, in early November, amid Musk's reorganization measures following his acquisition of the platform.
For more stories on economy & finance visit RT's business section
You can share this story on social media: