EU facing diesel crisis with Russian ban looming – Bloomberg
The bloc still relies on Moscow for 40% of imports, according to ship tracking data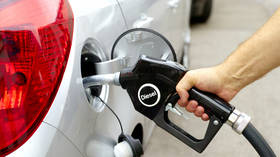 The EU will have a difficult time replacing Russian diesel when a ban on the country's seaborne oil products and an accompanying price cap come into force on February 5, Bloomberg reported on Friday.
According to the outlet, citing ship tracking data from Vortexa, the EU imported about 220 million barrels of diesel-type product from Russia in 2022. By December, some 40% of the fuel came to the bloc from the sanctioned country.
While the region's reliance on Russian petroleum products was reduced last year, in 2021 more than half of all seaborne shipments into the EU and UK were Russian, further illustrating the difficulty of replacing the barrels which will fall under the ban in less than three weeks.
"There's a total re-jigging in terms of diesel trade flows from the start of February," Mark Williams of Wood Mackenzie consultancy told the news outlet.
Data showed that the EU has already started to boost diesel shipments from Saudi Arabia and India. Analysts say that these shipments may be further increased this year, through a number of new oil refineries that are soon to come online. Experts also point to the US as having the potential to deliver more diesel to the bloc.
Furthermore, China may indirectly aid the region in acquiring diesel supplies. The country's diesel-type fuel exports are forecast to be similar in volume to what the EU and UK used to receive from Russia prior to sanctions. While those shipments do not usually end up in Europe, they could replace volumes from other producers, which would then be free to supply their fuel to the region.
"China policy is the game changer," Williams told Bloomberg, adding that the country "holds the key to all of the surplus refining capacity globally."
The EU could also use intermediary countries to get the fuel. Türkiye, not being a member-state and thus not party to sanctions against Moscow, could raise imports of Russian diesel and sell it to the bloc after refining, which is allowed under the terms of the ban and price cap. However, the final cost of the fuel may be much higher in that case.
Experts warn that sanctions may result in Russian barrels disappearing from the global market altogether, if the country fails to find new non-EU buyers. This would force Moscow to slash production and, consequently, lower overall supply and drive up prices. Coupled with high demand, this could lead to a worsening of the energy crisis in the bloc.
"The higher the demand and the steeper the Russian diesel production decline, the more complicated and potentially fractured things could get," Hedi Grati from S&P Global told the news outlet.
For more stories on economy & finance visit RT's business section
You can share this story on social media: