Car sales plunge in Russia
Soaring prices after the exodus of Western automakers were the main "deterrent" to demand, experts report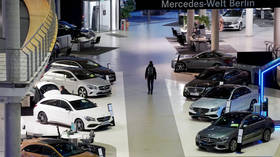 Sales of new cars and light commercial vehicles (LCVs) in Russia more than halved last year compared to 2021, due to the impact of Western sanctions, the Association of European Businesses (AEB) said on Thursday.
A total of 687,370 new passenger cars and LCVs were sold in 2022, which is 58.8% less than in the previous year, when more than 1.6 million cars were sold in Russia.
The market was down 50.2% year-on-year with 64,072 units sold in December 2022. While this was up from November, when Russians purchased 46,403 new cars, the year-on-year drop was still very significant, the AEB said.
Last year's sales were even lower than 2020, when Covid-19 restrictions were in place and dealerships were closing.
Russia's automobile industry, which is heavily reliant on foreign investment and equipment, has been hit by an exodus of international manufacturers due to Western sanctions. American, European and Japanese automakers have either left the country or suspended deliveries of cars and components, halting their local production indefinitely.
"The issues with sanctions and unprecedented pressure on the Russian market on all fronts, of course, had an impact on the automotive industry," the head of the AEB's automobile committee, Alexey Kalitsev, told reporters.
Car prices have also soared sharply in Russia, becoming the main "deterrent" to a sales rebound, he added.
Meanwhile, the AEB predicts a fast recovery for the market, expecting sales to climb by 12% in 2023 to around 770,000 vehicles. Kalitsev predicted that some Chinese brands would be among the five to seven new car brands that would appear on the Russian market in the coming period.
For more stories on economy & finance visit RT's business section
You can share this story on social media: