EU members accused of lagging behind in seizing Russian assets
Over €20 billion of sanctioned investments have reportedly been frozen so far across the bloc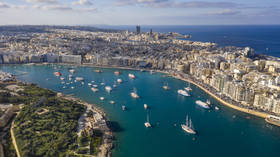 Greece and Malta have notified EU authorities they have frozen Russian assets worth €212,000 and €147,000 respectively, Reuters reported on Wednesday, citing a paper from the European Commission.
According to the document, almost every other member of the bloc has frozen millions worth of Russian assets subjected to sanctions.
So far, the 27 EU member states have reported freezing some €20.3 billion ($22 billion) of Russian funds. Italy, Ireland, France, Spain, Germany, Belgium, Luxembourg and Austria have each reportedly seized over €1 billion in assets.
"That is a bit surprising," an unnamed EU official told the agency, commenting on the reports provided by Greece and Malta. "Either they don't have much, or they are not doing their job. Or they have done something but not communicated to us even though they had chances."
Greek authorities were quoted by the agency as saying the €212,000 represented all the assets Athens had identified, based on the EU sanctions list.
"Greece's investment environment does not favor the inflow of Russian capital and off-shore companies," the official said.
The block has blacklisted about 1,300 individuals and 120 entities since the launch of Russia's military operation in Ukraine in February. Moreover, Brussels introduced eight packages of sanctions targeting the trade, transport, energy, banking, financial and defense sectors, as well as media.
Last month, EU officials admitted that Brussels could not legally confiscate Russian assets that have been frozen under the unprecedented penalties. EU leaders proposed that the bloc create a fund to manage the liquid assets and compensate Ukraine for damage from Russia's military operation with profits from those investments.
Moscow has said the seizing of Russian state funds or those of the country's citizens amounts to theft.
For more stories on economy & finance visit RT's business section
You can share this story on social media: