Russia to resume forex interventions
The central bank is scheduling a sale of foreign currency to stabilize the domestic economy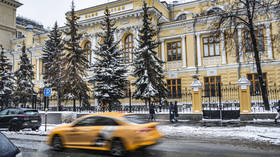 The Bank of Russia will resume interventions with the sale of Chinese yuan in the foreign currency market starting Friday, as part of a budget rule mechanism, the regulator and the Finance Ministry each stated separately on Wednesday.
According to the central bank, foreign currency will be bought or sold on the market evenly during each trading day of the month in order to minimize the impact of these operations on the dynamics of the exchange rate.
"Transactions will be carried out in the currency section of the Moscow Exchange in a Chinese yuan-ruble instrument with a settlement period of 'tomorrow'," the regulator added.
The Finance Ministry said it would allocate 54.5 billion rubles ($798 million) to sell foreign currencies between January 13 and February 6.
According to the ministry, resumption of operations will help strengthen macroeconomic conditions, as well as the business environment for the non-budgetary sector of the economy.
It added that the operations would "provide stability and predictability of domestic economic conditions, and reduce the impact of volatile energy market conditions on the Russian economy and public finances."
Transactions on purchase or sale of liquid assets will be implemented within the limits of additional or lost oil and gas revenues.
The ministry expects lost energy revenues in January to amount to 54.5 billion rubles ($793 million).
For more stories on economy & finance visit RT's business section
You can share this story on social media: