India won't support G7 price cap on Russian oil – analyst
The South-Asian nation won't face EU secondary sanctions, an analyst told TASS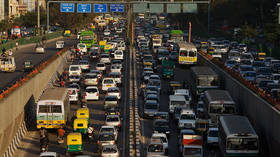 The chances of India backing the G7 price cap imposed on Russian oil are almost zero, as the country will prioritize its own political and economic interests, an analyst from the Observer Research Foundation (ORF) told TASS on Wednesday.
Nandan Unnikrishnan said India would not be targeted with secondary sanctions for rejecting the mechanism introduced by the EU, G7 and Australia in December. The measures target Russia's seaborne crude, banning Western businesses from providing insurance and other services in respect of the country's oil cargo unless it's purchased at or below $60 per barrel.
"At the moment, prospects of India joining the oil price ceiling are almost zero," Unnikrishnan said in an interview with the news agency.
His comments followed media reports suggesting that New Delhi could join the Russian oil price cap if crude costs go above $60 per barrel.
"India will pursue its own interests – economic, political, strategic. It is currently interested in importing cheap crude from Russia and won't give up on this, as the nation makes big profits," added the ORF analyst.
Unnikrishnan also noted that 85% of the Indian economy relies on the private sector, stressing that Reliance Industries, the country's largest buyer of Russian oil, has significant assets in the US, but it has not stopped imports.
He said Indian companies would act purely in accordance with their business interests.
India, the world's third-biggest importer of crude oil after China and the US, has been steadily increasing purchases of Russian crude over the past several months, taking advantage of discounts Moscow offered to attract buyers.
At the beginning of 2022, Russia's share of India's oil imports amounted to just 0.2%. By the end of last year, it had grown to nearly one million barrels per day, reaching more than 20% of the country's oil import basket. India reportedly remained Russia's top importer for three months in a row as of December.
For more stories on economy & finance visit RT's business section
You can share this story on social media: