Sharp decline in number of Russian billionaires – Forbes
The fortunes of those who remain on list of the country's richest people have shrunk due to sanctions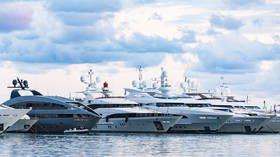 The unprecedented sanctions introduced against Russian individuals since the beginning of Moscow's military operation in Ukraine have drastically impacted the list of Russia's wealthiest people, according to the latest estimates by Forbes.
Moreover, data tracked by the magazine shows that those remaining at the top of the country's rich list saw their fortunes dwindling.
Alexey Mordashov, the chairman of steel giant Severstal, has led the list of the biggest losers, with his wealth dropping $11.1 billion during 2022 to $18.4 billion.
"Western sanctions have forced many of [billionaires] to bail out their multibillion-dollar empires, while the stock market crash has lowered fortune estimates," Forbes Russia reported on Tuesday, adding that 68 Russian businessmen, whose capital exceeded $1 billion in December 2022, saw their fortunes fall over the year.
Mordashov was followed by Tatyana Bakalchuk, the CEO of Russia's largest e-commerce and delivery giant Wildberries, whose fortune nearly halved to $4.7 billion. Tinkoff Bank founder Oleg Tinkov, who revealed that he had renounced his Russian citizenship in October, lost $5.9 billion. His fortune reportedly stood at around $870 million as of the end of last year.
Former owner of the English football club Chelsea, Roman Abramovich, ranks fourth in terms of monetary losses, having said goodbye to some $5.6 billion. Abramovich's wealth reportedly amounted to $8.7 billion.
The list of Russia's top ten richest people whose fortunes were hit by the sanctions also includes Lukoil's ex-boss Vagit Alekperov (down by $5.1 billion to $21 billion), businessman Leonid Fedun (down by $4.2 billion to $7.5 billion), and the president of the Skolkovo Foundation, Viktor Vekselberg (down by $4.1 billion to $5.2 billion).
Those slightly less affected by sanctions included owner of Volga Group Gennady Timchenko (down by $3.97 billion to $20.8 billion), and CEO of Russia's second largest gas producer Novatek Leonid Mikhelson (down by $3.3 billion to $24.4 billion).
For more stories on economy & finance visit RT's business section
You can share this story on social media: