Energy major warns of gas shortages
Governments across Europe will have a hard time filling up storage facilities given the dearth of Russian supplies, Equinor head Anders Opedal has said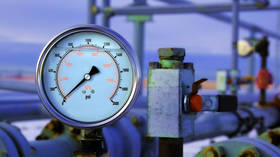 The European energy market is likely to remain tight this year despite the current drop in gas prices, Anders Opedal, the CEO of Equinor, Norway's largest energy company, told Bloomberg in a piece published on Thursday.
European gas prices have dropped to their lowest level in over a year this week due to unseasonably warm weather, with gas futures at the TTF hub in the Netherlands dipping below $700 per 1,000 cubic meters on Thursday. Forecasts show that the weather is set to remain mild for the rest of the month, which could further dampen gas demand.
However, according to Opedal, the countries of the region may subsequently face difficulties in replenishing underground storage facilities in light of the sharp decline in supplies from Russia.
"The gas stores are pretty full and it's warm weather, and that affects the gas price, but these stores need to be filled up this year with less Russian gas available… We are likely to see a market where gas prices are swinging quite a lot," Opedal warned.
Europe's storage is estimated to be 83% full, well above the seasonal average. However, prior to the start of the Ukraine crisis and the sanctions war with the West the region relied on Russia for up to 45% of its gas needs. Even in the first half of last year, Russian gas flows were largely stable, giving Europe the opportunity to fill storages. After sanctions and the sabotage of Russia's Nord Stream gas pipeline in September, however, Russian supplies now account for less than 10% of the continent's gas consumption.
Norway became the largest supplier of natural gas to Europe in recent months, bringing a total of about 122 billion cubic meters of gas to the region in 2022. However, this accounts for only about 30% of Europe's overall gas demand, and the Norwegian authorities recently warned that they do not have the capacity to significantly increase gas export volumes over the next four to five years.
For more stories on economy & finance visit RT's business section
You can share this story on social media: