IMF issues call on US inflation
The Federal Reserve should continue its efforts to lower prices, deputy head Gita Gopinath told FT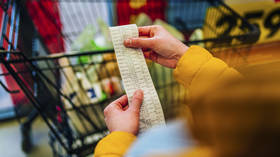 Inflation in the US has not subsided sufficiently enough to abandon last year's restrictive monetary policy, Gita Gopinath, the deputy head of the International Monetary Fund (IMF), has told the Financial Times.
According to Gopinath, it is "important" for the US Federal Reserve, which acts as the country's central bank, to "stay the course" in efforts to lower prices until there was a "very definite, durable decline in inflation" across the sectors not related to either food or energy.
"If you see the indicators in the labor market and if you look at very sticky components of inflation like services inflation, I think it's clear that we haven't turned the corner yet on inflation," she told the news outlet, adding that there is also a "very narrow path" for the country to avoid a recession in the coming months.
Gopinath's comments come as US inflation figures have started to subside in the past couple of months, leading analysts to suggest the price surge may have passed its peak. Prices in the country rose by 7.1% year-on-year in November, for instance, compared with 7.7% in October, according to the US Labor Department.
On December 14, in its most recent attempt to rein in inflation, the Fed hiked the key interest rate by 50 basis points – up to 4.25-4.5%. According to Gopinath, the regulator may need to raise the rate to about 5% and keep it there throughout the year in order to avoid further price increases.
"It's another challenging year for monetary policy, but it's a different kind of challenge. The last year was about quickly tightening monetary policy and how far to go. Now for lots of countries, the question is how long to stay on hold," she noted.
Gopinath also warned that Europe may take longer than the US to battle rising prices, saying that "we are looking well into 2024 before we start seeing inflation coming closer to the ECB's [2%] target."
For more stories on economy & finance visit RT's business section
You can share this story on social media: