McDonald's to leave another ex-Soviet country – Bloomberg
Sanctions against Russia reportedly disrupted the supply of beef to franchises in Kazakhstan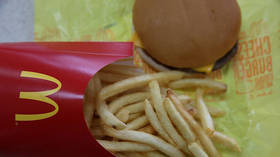 McDonald's may soon exit the former Soviet republic of Kazakhstan due to anti-Russia sanctions, Bloomberg reported on Wednesday, citing sources familiar with the matter.
The Central Asian country has not joined the US and its allies in embargoing Moscow over the conflict in Ukraine. However, the American fast-food chain reportedly prohibited its franchisee in Kazakhstan from buying frozen beef patties from Russia.
The franchisee, TOO Food Solutions KZ, suspended operations at 24 restaurants in November, citing supply issues. Importing meat from Europe would cost too much, according to Bloomberg's sources – who would not speak on record. McDonald's would not comment on the matter. It was likewise not possible to source the meat locally, for reasons that were not specified.
McDonald's was brought to Kazakhstan in 2016, by a relative of former president Nursultan Nazarbayev. However, Kairat Boranbayev, who ran TOO Food Solutions KZ, was arrested in March 2022 on charges of embezzlement.
Boranbayev's McDonald's franchise in Belarus also shut down last year, losing its license due to supply issues.
Five McDonald's restaurants in Bosnia-Herzegovina, a former Yugoslav republic, also closed at the end of December, reportedly due to a judgment against the local franchisee for owing half a million euros in rent to a German bank. The chain first opened in Sarajevo in 2011, somehow managing to compete with the national cuisine favoring grilled meat dishes.
You can share this story on social media: