Lula halts privatization of Brazilian state companies – media
The national oil giant Petrobras will remain under government control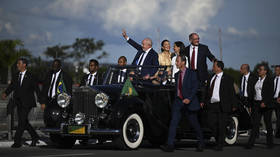 Brazil's newly returned President Luiz Inacio Lula da Silva has scrapped plans to sell off eight state-run corporate giants, including the oil company Petroleo Brasileiro, known as Petrobras, Brazilian news website G1 reported on Monday.
Lula, who was at the helm from 2003 through 2010, was sworn in as Brazil's president on January 1. Imprisoned for graft in 2018, Lula's convictions were overturned in 2019, allowing him to defeat Jair Bolsonaro in October's election.
The decision to remove state corporations from the list of state asset sales was one of the first official acts by the left-wing politician.
Aside from Petrobras, the order includes Pre-Sal Petroleo, the state firm responsible for the supervision and sale of the government's share of oil and gas from production-sharing contracts, along with the postal service Correios, and the Empresa Brasil de Comunicacaooperator, which manages the federal government's broadcast network.
The Brazilian social welfare system's IT services enterprise Dataprev, state-owned nuclear company Nuclep, IT services corporation Serpro, and the Agriculture Ministry's National Supply Company are also off the privatization list.
The returning president has called for "ensuring a rigorous analysis of the impacts of privatization on the public service or on the market," adding that state banks and major oil companies such as Petrobras would play a "key role" in the new economic cycle.
On Monday, the Sao Paulo stock index shed 3.24%, while Petrobras shares dropped around 6% as Lula's inauguration speech sparked investor fears of interventionist government policies. The national currency – the real – saw its value slide by 1.5%.
Lula's predecessor, the populist far-right leader Jair Bolsonaro, led an administration mired in controversies ranging from corruption to environmental devastation. Lula's own government was brought down by massive corruption in Petrobras, which led to the impeachment of his hand-picked successor in 2016.
For more stories on economy & finance visit RT's business section
You can share this story on social media: