Brits cutting back on non-essential spending – survey
Inflation driven by rising food, energy, and rent or mortgage costs are hitting households' disposable income, a report says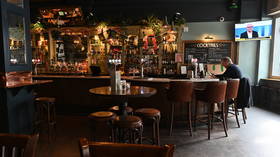 UK consumers intend to reduce their non-essential spending this year amid concerns about the burgeoning cost-of-living crisis, a survey by the consulting company KPMG has shown.
Almost two-thirds of the 3,000 consumers polled said they were preparing to reduce spending on eating out, holidays, and other non-essentials due to the highest inflation in forty years. Families are most concerned about the prices of basic items, such as food, energy, fuel, and mortgage or rent costs, KPMG said.
A third of consumers plan to buy fewer items and resort more to own-brand and value products in 2023. The most common areas for saving on discretionary spending were listed as eating out (46%), followed by clothing (42%), and takeaways (42%).
"Consumers are increasingly changing how they shop to save money – including switching to cheaper retailers, buying more value or promotional produce, and swapping eating out for meals in," the UK head of consumer markets, retail and leisure at KPMG, Linda Ellett, said.
Stressing the uneven impact of the cost-of-living crisis on vulnerable groups of consumers, the survey showed that one in ten adults had no savings. Of those with savings, 43% said they were using them to help meet essential costs, a figure that rises to 80% among low-income households.
One in ten consumers surveyed highlighted worries about energy bills after April this year, when the UK government will reduce the amount of support for families by increasing the cap on average bills from £2,500 ($3,000) to £3,000 ($3,600) for a typical household.
For more stories on economy & finance visit RT's business section
You can share this story on social media: