Switzerland resists handover of Russian assets to Ukraine
The country will not confiscate frozen property to support Ukraine, the Economy Ministry has said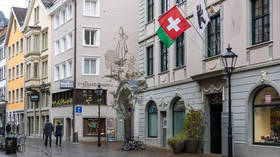 Switzerland does not support Ukrainian President Vladimir Zelensky's request to hand over frozen Russian assets to Kiev, a spokesman for the Swiss Federal Department of Economic Affairs, Education and Research, Fabian Maienfisch, told RIA Novosti on Monday.
"For the Swiss government, the confiscation of assets only on the basis of belonging to a state or being included in the sanctions list and using them to rebuild Ukraine is currently not an option of showing support for Ukraine," Maienfisch said.
The remarks come after Zelensky asked Switzerland last week to block Russian assets and transfer them to Ukraine.
This is not the first time Kiev has demanded that the assets of wealthy Russians and the country's Central Bank reserves – which were frozen as part of Western sanctions – be seized. In May, addressing the World Economic Forum in Davos, Zelensky said that "Russian assets must be found and confiscated." Later, Ukraine's prime minister proposed using the assets to help fund the reconstruction of the country, which was estimated at $750 billion.
Switzerland agreed to join other Western nations in sanctioning Moscow, and in May, it reported that $6.50 billion in Russian assets were frozen. The country, however, rejected the idea of handing over the assets. Technically, they still belong to their Russian owners, even if they have no access to them, and their ownership is protected by European property rights.
In July, Swiss President Ignazio Cassis said it was important to protect individuals against the power of the state and to create a legal basis for confiscating funds.
For more stories on economy & finance visit RT's business section
You can share this story on social media: