Greeks saving on food to pay for energy – survey
Seven out of ten Greeks are being forced to buy less food due to rising energy costs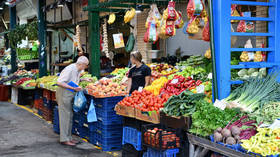 A growing number of Greeks are cutting back on food to pay their taxes and energy bills, a survey by the General Confederation of Greek Workers and the Labor Institute has shown.
When asked if rising prices had forced them to spend less on basic food items, 20% of respondents answered "much less" and 51% answered "less," while a quarter reported "little" change in their spending habits and only 4% said the situation had not changed for them at all.
A majority noted that the change in their spending habits had come from the necessity to pay more for energy. Nearly half of respondents (47%) said they expected a "difficult winter" as energy prices continue to rise, while one in five said they may not be able to pay for energy bills in the coming months "at all."
"The Greek economy and society, after years of austerity, are facing a new wave of price increases and revaluation of basic goods, and stagnant incomes threaten the purchasing power of many households and social groups," the authors of the survey conclude.
They suggest that the cost of living crisis in the country could be solved only through government intervention, for instance, by hiking the minimum wage, reducing excise taxes on energy and food, and imposing a tax on energy companies' excess profits.
The Greek government is already subsidizing energy bills for its residents, having started the practice last year. Last month, it vowed to spend almost €2 billion ($1.98 billion) subsidizing growing power bills in September, covering up to 100% of the increase for the poorest households.
However, analysts say subsidies may not be enough, with inflation remaining close to its highest level in nearly three decades – 11.4% – as of last month, while natural gas prices soared 261.3% year-on-year and electricity costs were up 38.5%, according to data from the Hellenic Statistical Authority (ELSTAT).
For more stories on economy & finance visit RT's business section
You can share this story on social media: