Ex-energy boss warns Poles of gas threat
Companies may be forced to pay more on the spot market, Petr Wozniak says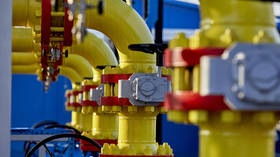 Soaring natural gas prices may push smaller energy companies in Poland into bankruptcy, according to Petr Wozniak, the former head of the country's state oil and gas company PGNIG.
Wozniak said the problem stems from the fact that energy companies buy gas on the European spot market, where prices have been on the rise for months.
"Thus, the prices that companies will have to pay on the spot market to buy gas will grow higher and higher... There is a serious threat here that companies will not have enough money to pay collateral. Then such a company will be forced to drop out of the bidding... If it has nowhere to buy gas, it cannot sell it to the end customer. Individual companies can go bankrupt," Wozniak warned in an interview with RMF FM radio station, adding that "at the turn of the year, we can expect very serious price increases."
Earlier, it was reported that PGNiG is actively taking out loans to buy on the spot market after refusing to pay rubles for Russian gas supplies. Over the past two months, the company has signed four loan agreements with various financial institutions worth several billion euro.
For more stories on economy & finance visit RT's business section
You can share this story on social media: