German industry could shut down without Russian gas – FT
A lack of energy supplies may bring the EU's top economy to a halt, the paper reports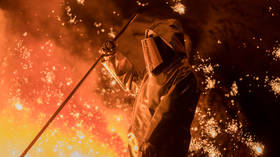 Industrial companies across Germany are facing a real prospect of scaling down operations or shutting down completely if natural gas flows from Russia stop, the Financial Times reported on Monday.
According to the publication, Germany's largest steelmaker ThyssenKrupp and the world's largest chemicals company BASF have both warned that without sufficient natural gas supply, their factories could be forced to idle or shut down completely, and could even suffer technical damage.
"[Without Russian gas supplies,] we have to stop [production] immediately, from 100 to zero," said Petr Cingr, the chief executive of SKW Stickstoffwerke Piesteritz, Germany's largest ammonia producer and a key European fertilizer supplier.
The warning comes amid uncertainty over gas supply from Russia, as the country's state energy giant Gazprom was forced to slash its deliveries via the Nord Stream 1 pipeline by 60% last month over a technical issue stemming from anti-Russia sanctions. The pipeline is currently shut down entirely for annual maintenance that's due to finish on July 21. However, many in Germany and the EU fear that Russia will not turn the flow back on when the maintenance is completed, for political reasons.
Some companies hope to switch to alternative fuels, such as heating oil or coal, if there's no gas coming from Russia, FT says. However, according to chemicals industry estimates cited by the publication, only 2-3% of gas consumption can be replaced in this way.
Without Russian gas, Germany will experience a severe fall in industrial output, which will trigger a "deep recession" with almost 6% wiped off GDP by the end of next year, analysts at Swiss bank UBS told FT.
Last month, the German government initiated the second stage of its national emergency plan, with the next step being the introduction of gas rationing. The energy crunch has also led to an eight-fold increase in European benchmark natural gas prices over the past 18 months, driving up the overall cost of living in Europe's top economy.
For more stories on economy & finance visit RT's business section
You can share this story on social media: