US consumer sentiment hits rock bottom
American consumer confidence has plunged to 1980s lows, according to the University of Michigan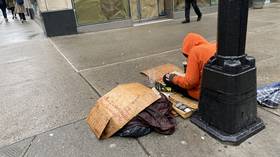 The University of Michigan has revealed that its consumer sentiment gauge nosedived to a record low of 50.2 points on Friday. The figure stood nearly ten points below predictions economic experts gave the Wall Street Journal and represented a drop of 8.2 over the past month.
Views on current conditions fell to 55.4 in June from 63.3 the previous month, and a 'barometer of expectations' measure plunged further, from 55.2 to 46.8, among consumers queried for the report.
Nor was consumer sentiment the only economic metric looking grim across the US. Responses indicated expectations for inflation over the coming year had risen to 5.4% in June from 3.3% in May, while expectations about inflation over the coming five years had crept up from 3% to 3.3%. Americans are more likely than at any time since 2008 to expect inflation, according to Charles Schwab strategist Kathy Jones.
Such low consumer confidence is reminiscent of the 1980 recession, the university suggested, referring to the last time they had seen such dismal figures. Economists at Contingent Macro appeared to reach a similar conclusion, pointing out that the share of consumers citing inflation as the primary cause of their negative economic outlooks was as high as it has been since 1981.
The rapid price increases seen across the economy have been fed by the money-printing undertaken by the Federal Reserve during the Covid-19 pandemic, when government shutdowns created supply chain disruptions from which the world economy has yet to recover. Critical commodities like fuel and food have surged skyward in price the fastest, at least in part due to Western sanctions imposed on Russia over the ongoing conflict in Ukraine.
Fuel prices have soared to one all-time high after another across the US in recent weeks, eating up a larger share of consumers' budgets. For lower-income households, spending on gasoline reached nearly 10% of all the expenses on credit and debit cards in the last week of May, the institute said in a report this week. That's up from about 7.5% in February, according to research by the Bank of America Institute.
Multiple US financial institutions, including BoA and JP Morgan, have predicted difficult economic times ahead for the country due to worsening inflation, as well as Federal Reserve rate hikes aimed at curbing that inflation. Consumer prices soared 8.6% in May from 12 months earlier, faster than April's year-over-year surge of 8.3%, US Labor Department data showed on Friday.
You can share this story on social media: