Value of Russian securities frozen by EU is revealed
Euroclear has blocked $27 billion in funds belonging to Russians and $85 billion held by foreign investors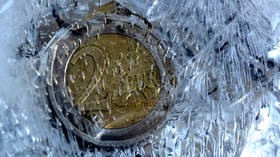 Euroclear, one of the world's largest financial securities transactions companies, has blocked about $27 billion worth of securities belonging to Russians, according to strategists at ITI Capital.
Frozen assets held by foreign investors reportedly exceed $85 billion.
The Belgium-based settlement and clearing organization announced the suspension of transactions with Russian securities in March. The step came amid Ukraine-related sanctions introduced against Moscow. Later, clearing house Clearstream, which is owned by Deutsche Boerse, followed suit.
The volume of assets of non-residents that were blocked in Russia's National Settlement Depository (NSD) reportedly exceeded $85 billion, with some $48 billion of the assets being stocks, while the remaining $38 billion accounts for bonds, mainly ruble-denominated sovereign debt (OFZs).
Analysts say that the majority of holders of foreign assets in the NSD are local banks, management companies, non-state pension funds and individuals that are holding structural notes and foreign shares.
"There is a high probability that payments to holders of Eurobonds in the NSD and Euroclear will be made in rubles, in accordance with the scheme previously announced by the Ministry of Finance, after which they can be converted into foreign currency," the strategists of ITI Capital told the media.
According to ITI Capital, EU leaders may consider confiscating the blocked assets as part of the bloc's anti-Russian penalties.
The experts expect Washington to introduce similar sanctions against the NSD, forcing brokers to de-collateralize assets in euros and dollars.
For more stories on economy & finance visit RT's business section
You can share this story on social media: