Tesla shares drop after Elon Musk's email
Investors worry that his plan to cut jobs signals problems within the company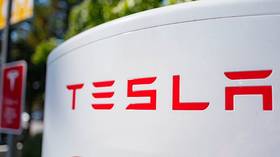 Shares of electric car maker Tesla slid 9.2% on Friday, following Elon Musk's email to executives in which he announced plans to cut 10% of its workforce. Musk also wrote that he has a "very bad feeling about the US economy," referring to his previous warnings of a recession.
Investors fear that Musk's remarks signal problems within the company, especially after Musk demanded that workers spend at least 40 hours per week in the office earlier this week.
Speaking to reporters in Delaware on Friday, US President Joe Biden dismissed concerns about the economy expressed by Musk, and also noted that while the Tesla CEO talks about recession and job cuts, other manufacturers are thriving, which could signal a problem with Tesla, not the economy.
"While Elon Musk is talking about that, Ford is increasing their investment overwhelmingly... Ford is increasing investment and building new electric vehicles. Six thousand new employees, union employees I might add, in the Midwest," Biden said, while also pointing to the successes of the former Chrysler Corporation in electric vehicle production, and tech giant Intel's recent move to create 20,000 new computer chip jobs.
This is not the first time Musk and Biden have engaged in verbal sparring. Musk has criticized the president and complained about his lack of acknowledgement of Tesla, as Biden openly favors GM and Ford in his push to remake the country into an electric vehicle powerhouse.
However, earlier this year, following months of complaints from Musk, Biden finally acknowledged Tesla, calling it "our nation's largest electric vehicle manufacturer."
For more stories on economy & finance visit RT's business section
You can share this story on social media: