Russia's forex reserves return to growth
International holdings surged by $2 billion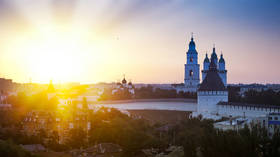 Russia's foreign currency reserves increased by $2.1 billion, or 0.3%, in the week ending April 1, the Bank of Russia announced on Friday. The country's forex holdings amounted to $606.5 billion, data published on the website of the regulator shows.
The central bank regularly publishes updates on its reserves with a one-week lag. International reserves consist of foreign-currency funds, special drawing rights with the IMF and monetary gold.
Russia's reserves declined after the launch of the military operation in Ukraine on February 24. As of February 18, they amounted to $643.2 billion, while by March 25 they had dropped to $604.4 billion. This happened as the US, most of the EU, the UK and Japan imposed sanctions on the country's central bank and other major financial institutions.
Sanctions froze roughly half of Russia's reserves held abroad and effectively blocked its ability to conduct international transactions in US dollars and euros. The Bank of Russia identified currency interventions, refinancing and revaluation of assets as the major drivers of the decrease in reserves.
For more stories on economy & finance visit RT's business section
You can share this story on social media: