Elon Musk sparks debate with controversial Covid meme
The billionaire weighs in on the vax debate with an image mocking both the vaccinated and the unvaccinated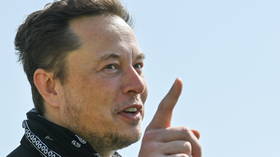 SpaceX and Tesla CEO Elon Musk received a mixed reaction after he shared a meme on Twitter appearing to criticize both sides of the Covid-19 vaccine debate – vaccinated and unvaccinated – for taking things way too seriously.
The meme, shared on Thursday, showed an unvaccinated man alongside a vaccinated man with dozens of needles jabbed into his body and a QR code tattooed on his head. A thought bubble emanating from the heads of the two men showed each wondering why the other wasn't dead yet.
Though the tweet received more than 270,000 likes, Musk was soon criticized for portraying both sides equally.
"Please don't do this," reacted science education YouTuber Kyle Hill, while another person tweeted, "800,000 Americans are dead, you goddamn idiot."
One woman argued that Musk's opinions on the pandemic should be taken with a grain of salt, pointing to his prediction in March 2020 that the United States would "probably" experience "close to zero new cases" of Covid-19 by the end of April that year.
Others praised Musk for taking a swipe at both sides, however, and argued that critics had merely missed the joke.
"I think people are misinterpreting this meme. @elonmusk isn't being pro or anti vaccine ... just pointing out that both parties are thinking exactly the same about the other," one person observed.
You can share this story on social media: