UK wants to join $12 trillion Asia-Pacific trade deal after leaving EU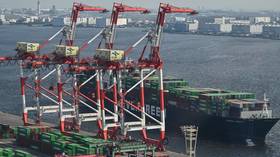 One year after the divorce with the EU, Britain announced plans to join one of the world's largest free trade agreements. Known as the CPTPP, the deal includes 11 developed and emerging economies around the Pacific Rim.
The British government announced on Sunday its intention to formally apply to become a part of the Comprehensive and Progressive Trans-Pacific Partnership (CPTPP). UK International Trade Secretary Liz Truss will discuss Britain's intention with ministers in Japan and New Zealand, which are parties to the pact, on Monday, while formal talks are set to start this year.
Also on rt.com
UK strikes first major post-Brexit free trade deal with Japan
The trade pact stems from the Trans-Pacific Partnership agreement, talks of which were abandoned by the US. CPTPP members include Australia, Brunei, Canada, Chile, Japan, Malaysia, Mexico, New Zealand, Peru, Singapore, and Vietnam, which together account for about 13 percent the world's income.
According to the British government, the annual volume of trade between the UK and the members of the group grew by eight percent since 2016 to £111 billion (over $152 billion) in 2020. London says that that domestic manufacturers, including food and drink producers, as well as the automotive industry, will benefit from the deal, but the UK won't have to cede control of its laws, borders, and money like under EU membership.
"One year after our departure from the EU we are forging new partnerships that will bring enormous economic benefits for the people of Britain," Prime Minister Boris Johnson said. He noted that the UK will be the first nation to officially apply to join the agreement since it came into force in 2018, which "demonstrates our ambition to do business on the best terms" with partners across the globe.
While the intention was also welcomed by business groups, it still drew criticism. Labour's trade policy chief, Emily Thornberry, said the UK's "big decision" on membership in the mammoth agreement comes shortly after the country finally left a trade bloc with our closest neighbors, "only to join another one on the other side of the world with no public debate at all." She called on the government to open public consultation on the matter, as most people even don't know what the pact is.
For more stories on economy & finance visit RT's business section
You can share this story on social media: