US drug maker says its coronavirus medication will cost up to $5,700 per treatment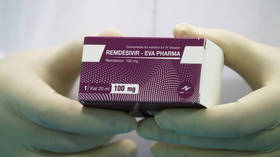 Gilead Sciences announced pricing plans for its coronavirus-fighting drug remdesivir. It will charge the US government and other developed countries $390 per vial, or about $2,340 for a typical five-day course of treatment.
The US biopharmaceutical company said it would offer a one-price model to avoid the need for country-by-country negotiations that could slow down access. For commercially insured patients, the five-day course will cost $3,120.
The longer 10-day treatment course will cost governments $4,290 per patient and $5,720 for a US patient with private insurance.
"We wanted to make sure that nothing gets in the way of remdesivir getting to patients," Gilead CEO Daniel O'Day said. The price "will make sure all patients around the world have access to this medicine."
Remdesivir costs about $10 to produce. Why is it being sold for $2340/treatment course? Because the American healthcare system values profit over providing actual healthcare, especially when profit can be made at the expense of poc/low income communities https://t.co/BLtmMVBthk

— emily (@emilyjhancock) June 29, 2020
The company also said it has entered into agreements with generic manufacturers to provide the drug at a "substantially lower cost" in developing countries.
Given the potential to reduce costs for hospitals and to save lives, Gilead said its price of $390 per vial is "well below" the drug's value.
Pretty interesting read on the release of pricing for #RemdesivirUS funded research, gov't gets "free" supply to treat ~140K people. Drug company will charge $2300+/treatment. Report says costs ~$9/treatment to make. Who bought stock in #Gilead?https://t.co/1SfJPP705C

— Jer 🇨🇦 (@BoozeDonkey) June 29, 2020
"At the level we have priced remdesivir and with government programs in place, along with additional Gilead assistance as needed, we believe all patients will have access," O'Day said.
It has taken nearly two months for Gilead to announce a price for the Covid-19 drug since it received emergency authorization from the Food and Drug Administration (FDA) to treat patients.
US Department of Health and Human Services (HSS) said it has secured more than 500,000 treatment courses of the drug, which it will distribute to American hospitals through September.
"President Trump has struck an amazing deal to ensure Americans have access to the first authorized therapeutic for COVID-19," HHS Secretary Alex Azar said, adding: "To the extent possible, we want to ensure that any American patient who needs remdesivir can get it."
Gilead also plans to start human trials for an inhaled version of remdesivir. According to the company, it will continue to invest in ramping up production of the drug to meet demand.
For more stories on economy & finance visit RT's business section
You can share this story on social media: